Alternators -
Our alternators are designed for meeting a wide range of engineering specifications and applications. They are designed for use on petrol and diesel engines in the automobile industry, on trucks, buses, tractors, construction machinery and for other purposes.
The results of technical innovations are different families of alternators designed in modern compact version with internal fans, classic alternators using external ventilator and liquid cooled alternators with additional permanent magnets between the claw poles.
We stock a wide variety of modern alternators (from more than 20 global manufactures) with various of specifications to meet all your requirements.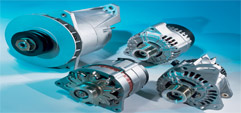 At TTTC, it is our goal to provide you discount heavy duty auto parts fast and be assured that you are getting the lowest prices on OEM replacement parts that cannot be found anywhere else in Middle East! We offer free shipping on all orders within State of Qatar and up to 40% off shipping to other countries in the Middle East. Most orders are delivered within 1-2 days.