OUR PRODUCTS
We give great attention and focus to all details of our products before we sell them to guarantee the highest quality for you. As one of our quality basics, all our products must meet ISO and QS9000 standards, so you would be surprised how hard our products can work. So do you know now why our slogan says "Keeping The Developing Engine Running"™.
We remain stock of wide variety of modern (smaller, lighter and more efficient) heavy duty alternators and starter motors from a variety of manufacturers. To provide all your needs of diesel and petrol engines of all capacities for automotive, truck, tractor, and other industries.
We Offer The Best Prices In The Market Without Sacrificing The Quality.
Alternators
Alternators are designed for meeting a wide range of engineering specifications and applications. They are designed for use on petrol and diesel engines in the automobile industry, on trucks, buses, tractors, construction machinery and for other purposes. read more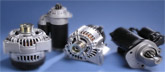 Starters
Our starters have the highest quality standards available in the market. The modern trends for starter motors have become smaller, lighter and more efficient. read more
Other Products
Bearings, Brushes, Bolts, Armitures, Drives, Rectifiers, Regulators.. Anything & Everything from A to Z.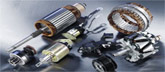 read more

NEW PRODUCTS




High Amp 28SI Alternators for Heavy Duty Truck & Industrial Applications.

28SI Pro Series High Amp Alternators
The Pro series alternators are our most popular line of alternators. With their ultra rugged construction, unsurpassed reliability, and awesome outputs these
alternators are the best of the best. With monster outputs at high speeds, excellent output at idle speeds, these alternators simply will not disappoint! In the toughest
conditions.


We help you to Save Time and Money, with our warehouse filled with thousands of auto parts ready be shipped in the same day. This means that almost any item you want will be in stock and ship the day you order it. Free Shipping in Qatar, other countries, we pay up to 40% of the shipping cost.